Dylan Duchatschek – Onboarding Specialist
Welcome to week five of our 'Get to Know Us' series!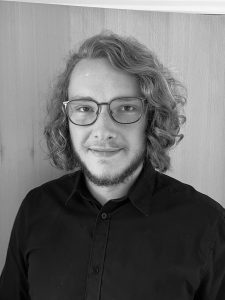 This week we spoke to Dylan Duchatschek, Onboarding Specialist at Simply Workflow.
Dylan currently works remotely and is based in Scotland and he joined the Simply Workflow team in March 2022.
We asked Dylan the following questions:
How would you describe your job to a group of five-year-olds? 
My job is to make sure that the Simply Workflow app is working smoothly for our clients so I test the app and make sure everything is working like it should be. I also speak to companies who are interested in our system, how it works and what it can do. I work with our new clients and train them how to use the system and I help them get them set up as efficiently as possible. I also keep in contact with our existing clients to make sure that they are happy and are using the system to its full potential. 
What do you love most about working at Simply Workflow? 
It has to be the culture and the staff, both of which are great at Simply Workflow. That's a bit cliche I know, but everyone is very nice to work with! It also feels very good to have started on the ground floor of a new system, and I am a part of the team that's driving its implementation.
What was your favourite subject in school? 
Break time! I took a few different subjects over the years but biology was probably my favourite!
If you could learn any skill in the next 10 minutes what would it be?
I would say learning the Piano.
What is your favourite sport and sports team?
I'm not much of a sports person but probably rugby if I had to pick a sport. My favourite rugby team is the South African National team, Springboks. 
What superpower would you choose to have?
Probably to be able to learn any skill in 10 minutes, that would be very useful.
Pineapple on pizza. Yes or No? 
Yes!
Thank you for reading this week's Get to Know Us and a big thank you to Dylan for speaking with us. Come back next week when we will be talking to Nuno Matos who is an intern developer at Simply Workflow.
If you would like to find out more about our wonderful team, click here.